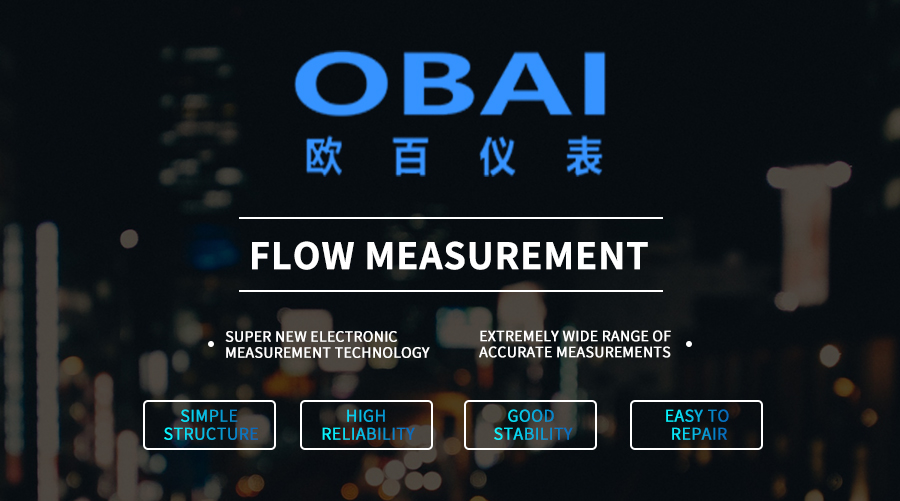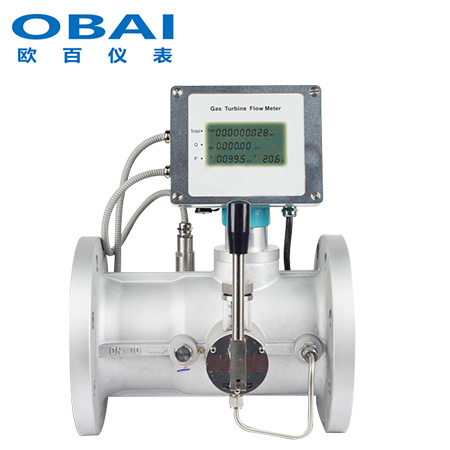 Gas turbine flowmeter
Gas turbine flowmeter is our new research and development of the fifth generation of gas turbine flowmeter, reference in the advanced concept of aviation technology combining the theory of fluid mechanics, electromagnetism and so on by itself to set temperature, pressure, flow rate sensor is developed and in the integration of intelligent flow totalizer.especially for a new generation of high precision, high reliability of gas precision measuring instrument, has a good performance of low pressure and high pressure measurement, multiple signal output methods as well as to the fluid disturbance east low sensitivity. OBWQ series gas turbine flowmeter has become a particularly excellent Germany can accurately measure gas volume German commercial trade meters.
It is widely used in the measurement of urban gas pipe network, industrial gas, gas regulator stations and energy management. It has been exported to southeast Asia, the Middle East, Russia, India, Pakistan and other countries, and its product performance has reached the international leading level.
Our company is committed to providing high reliability products for the majority of users. The watch core adopts integrated design and has a number of patented technologies. The product has obtained the national explosion-proof certificate and the explosion-proof mark is ExiallCT6GB (intrinsic safety type).

Meter aperture

Type E and type D:50mm、80mm、100mm、150mm、200mm

F and FG:25mm、50mm、80mm、100mm、150mm、200mm、250mm、300mm

Nominal pressure

1.6MPa、2.5MPa、4.0MPa、6.3MPa(Above the secondary pressure need to be customized)

Compensation mode

Temperature and pressure double compensation

The output signal

Pulse, 4-20ma, RS484, IC card signal

Communication protocol

MODBUS-RTU,HART(Make to order)

Power supply

1. Strong 24DC dc power supply

2. Battery power, 3.6v lithium battery




Conditions of use

Medium temperature: - 20 ℃ to 80 ℃ ambient temperature: - 30 ℃ to 60 ℃

Relative humidity: 5%-90% atmospheric pressure: 86kpa-106kpa

Protection grade

IP65、IP67

Explosion-proof grade

Ec d IIC T6 Gb

Applicable medium

Natural gas, compressed gas, nitrogen and other medium and low velocity gas

Range than

1:10--1:20

precision

1.0、1.5

The material

Type W and type D: aluminium alloy. F-type diameter 200: aluminum alloy; Caliber 250, 300: stainless steel

Product standards

GB_T 21391-2008

The installation direction

Horizontal installation

1, international first-class technology, imported equipment fine processing, leather durable, good precision and repeatability.
2, the use of imported German military bearings, oil lubrication guarantee at any time can be excellent and stable measurement, the highest can reach 0.5 class.
3. Wide range and low initial flow.
4. The theme adopts one-time casting molding technology, and the impeller is made of aluminum alloy; Corrosion resistance, high pressure resistance, impact resistance
5, cast aluminum explosion-proof square meter head, the meter head can be 350 degrees free rotation to facilitate the viewing of data
6, the body with rectifier greatly shorten the distance before and after the straight pipe
7. The exit is equipped with a filter net to effectively filter the damage of small and medium particles to the impeller
8. Large LCD display instantaneous and cumulative flow, temperature, pressure, standard condition value and working condition value
9. It is manufactured in strict accordance with national standards and enterprise standards and has obtained the type evaluation certificate and national measuring instrument license issued by the national measures
10. The product has passed high and low level interference test, and has excellent low-voltage and high-voltage metering performance
11, the use of international advanced design concept, can greatly extend the service life of the instrument
12. The patented integrated rectifier is adopted, which has low requirements for the installation of the front and rear straight pipe sections of the flow meter (no requirements for the first 2DN and the downstream).
13, independent movement design, good interchangeability, easy maintenance
14. Special time display and real-time data storage functions ensure that internal data are not lost and stored permanently
15, explosion-proof marks for Exia Ⅱ CT6 GB, protective class IP65
16. The liquid crystal display with high contrast can display the total amount, flow rate, time and percentage of flow rate in working conditions, etc
17. It can be used in conjunction with the IC card controller of the company to realize the prepayment function (paying before using gas).
18. It can be combined with our intelligent LNG\CNG gas station management system